San Francisco Election Round-Up
San Francisco remains bitterly divided while backlash against both street poverty, homeless people and evidence-based solutions to the housing crisis worsen.
The November 8th elections in SF proved to be as ridiculous as expected.
Supervisor Races
Progressive candidate Honey Mahogany for Supervisor not securing the YIMBYs' support as #1 or equal to Dorsey (she got #2) was disappointing. It would've been a good way to further extend YIMBYism into progressive spaces since Matt Haney's election. Instead YIMBY voters supported the relatively moderate Matt Dorsey. Joel Engardio also got YIMBY support, despite having stated his opposition to single family areas allowing multifamily housing two years ago (but claimed he's change in this election.) He was running against Supervisor Gordon Mar, a progressive, who tried to downsize low income housing amidst homeowner backlash.
The YIMBY movement propelled itself into the spotlight with its unusual spectrum spanning leftist to libertarian, against an equally unusual oppositional alliance spanning leftist to conservative. But the big tent idea reveals underlying schisms as moderate and centrist YIMBY endorsements of candidates with carceral politics, largely under "Grow SF" a splinter-group of centrist YIMBYs away from SF YIMBYs, further alienate progressive YIMBYs who are ever less tolerant of endorsing carceral politicians with slightly preferable zoning opinions.
Of the moderate demographic, a constant complaint I hear during election season is that every progressive candidate is a potential "Left NIMBY" due to some lip service about insufficient subsidized housing in RHNA ratios. Outside of housing nerd conversations, the vast majority of people don't understand how RHNA numbers work. Progressive candidates include an alliance much larger than YIMBYs, and highlighting a deficit in low-income production doesn't inherently mean halting or hindering market-rate development.
This has ironically helped anti-YIMBYs at gatekeeping YIMBYism away from progressives but not in the manner they intended to by haggling any progressive even remotely sympathetic to ending exclusionary zoning away from it. They failed at that. Anti-YIMBYs are succeeding, accidentally, in making a sect of moderate YIMBYs so reflexively antagonistic of progressives that progressive candidates who clearly like and embrace pro-YIMBY platforms get a bunch of centrists to blow it up. 
But the worrisome part is that failure to broaden out to progressives in what is supposed to be a big tent runs would-be YIMBY progressives or even strong liberals who constantly bemoan being politically homeless the other way. Moderate YIMBYs who may not see the progressive politics as relevant should jump at the oppertunity to reward progressives who embrace YIMBY platforms. Primarily because of the damage partisan deadlock does to housing policy in the long run. Case and point: Oakland and Berkeley where YIMBY-NIMBY does not map onto Moderate-Progressive continues to move forward on ending exclusionary zoning while SF's crashed and died along partisan lines.
The incessant "left NIMBY" allegations Oakland mayor-elect Sheng Thao got — a councilmember who voted to abolish single-family zoning, endorsed state upzoning laws, and ran on building 30,000 market and income-restricted housing units — was ridiculous. I can't convince centrists aka the Grow SF division of SF/Bay politics to embrace progressives but I am expecting that at the very least the basic tenets of YIMBYism is upheld.
Proposition D
The competing ballot measures Proposition D and E is just another example of the kind of idiocy that should be shoved into a big textbook on why San Francisco has a housing crisis. Despite both referencing a "housing streamlining bill," only one was truly a streamlining bill. Proposition D would've dramatically streamlined the approval process for housing development that are 37% affordable or more, averaging no higher than 120% AMI. It was supported by the SF YIMBYs, SPUR, Carpenters Union and more.
Proposition E was a lemon ballot measure designed to look like the SF Progressives had answers to the growing SF YIMBY movement but illustrated they didn't. Even its own authors admitted that the weaker streamlining provisions didn't do anything to surmount state bill SB 35 which has been a boom for low-income developers in securing housing approvals within a few months. It actually made it harder to build low income housing by allowing environmental lawsuits to be used against housing — so not a single nonprofit developer would ever use it.
Commentators online were quick to note that no Prop E proponents mourned its death when it lost by 10 points, compared to their rejoicing when Prop D came short by 2 points (49-51). Prop D simply gave streamlining privileges in which the average AMI could not exceed 120%, thus including some upper-band of up to 140% or $190,000 for a family of four. These income bands are often made to sound crazy high but a 140% AMI household in San Francisco is basically a couple, one with a management job, another in public works with two kids. 140% AMI projects already exist in San Francisco. Any publicly-funded affordable housing is usually bounded to far lower income restrictions as required by grant conditions, despite Prop E proponents lying inferring affordable housing dollars would be given away to for-profit developers. But they don't care -- the prop is dead.
The other point of contention was labor rules, because Prop D required prevailing wages for projects (aka union-level wages) while Prop E required union labor. This union provision was added almost certainly to get union muscle against Prop D rather than any coherent plan to get unions exclusive development contracts. Building Trades throughout the state since the rise of housing streamlining bills have been trying to make themselves the exclusive contractors that benefit from these bills — as I went over in a previous article.
If the Building Trades want to get exclusive contracts, the wise thing to do would be to write a housing streamlining bill that is more effective than SB 35 and then mandate union-only labor. But I don't know how popular that would be among progressive activists since it's at odds with their mission of not reducing community meetings, approval timelines or reducing legal barriers to housing development. Willing to bet the next iteration of Prop D will have union-only requirements which would've sealed its passage.
But the failure of the measure gives more evidence to the state's Housing and Community Development agency to reign in on San Francisco's poor housing approval process. And contrary to SF progressive majority board of supervisors belly-aching that the city is being examined by the state, nowhere else in California are progressive groups whining about Affirmative Furthering Fair Housing forcing broader zoning and approvals changes. But in San Francisco progressives accuse it of being beholden to the scary "big developers" despite HCD being run by nonprofit housing progressives and the state law being enforced by a former rent control legislator. 
HCD has correctly observed that San Francisco has not only produced insufficient quantities of housing, but has seen a reduction in low income housing as further increasing the affordable housing requirements for market-rate developments while ignoring warnings the higher percentage would result in fewer affordable homes resulted in a decline of subsidized housing dollars in the trust-fund upwards of 75%.
Let's see come February 1st, 2023 if San Francisco's Progs and Mods get their act together or if the state of California takes away San Francisco's zoning powers like what happened to Santa Monica. At this point I'm rooting for the state.
District Attorney
The District Attorney results were unsurprising. Since Boudin's recall, SF voters reaffirmed their anti-criminal justice reform sentiment by re-electing Brooke Jenkins, a tough on crime prosecutor who's promising aggressive drug abuse crackdowns over progressive criminal justice reformist John Hamasaki. There's a few answers as to why Alameda County and SF diverged here.
Firstly, without a doubt the intense scrutiny both nationally and locally on crimes that occurred under Chesa Boudin has effectively damaged criminal justice reform in San Francisco. The constant invoking of his name in every crime story as an implied indictment of his reforms succeeded at making criminal justice reform toxic, as intended by center and right-wing pundits.
Secondly, the connotation of "crime" in the East Bay and San Francisco are still vastly different. What "crime" in San Francisco means to people is drugs, property crime and street poverty in Downtown SF. What "crime" means in the East Bay is gang violence and gun homicides mostly focused in several Oakland neighborhoods. Yes, there's drug issues and prominent encampments in Oakland but unlike San Francisco these areas are segregated far away from the majority of East Bay dwellers who simply gawk at them from afar in their cars or on BART as they pass through.
The lack of visible homelessness, addiction and mental health crisis in most East Bay neighborhoods or in popular East Bay conglomerations such as downtowns and shopping centers to the extent seen on Market Street neutralizes a "San Fran-sicko" styled backlash. Notably a rather problematic Oakland mayoral candidate running on that issue failed soundly.
Thirdly, and most poignant of all: Asian voters in San Francisco are clearly not down with criminal justice reform at the moment. Not mentioning it isn't going to change sentiment regardless of whether a progressive Asian candidate runs or not. Hamasaki precincts going hard Jenkins as soon as you cross the Stockton Tunnel into Chinatown is basically the election round-up.
I don't buy the gentrification narrative explaining SF's rightward lurch to the center. The Haight gentrified 40 years ago and yet the overwhelmingly white neighborhood voted against Jenkins. The Mission, particularly the Inner Mission, has experienced high levels of gentrification these last two decades and yet sustained high support. It's seldom mentioned but San Francisco's non-Hispanic white population has been in decline or stagnant for the last half century.
Asian Americans are the largest ethnic minority in San Francisco, and though gentrification discourse focuses on the Mission becoming whiter — the vast majority of SF is trending Asian American, not white. (3,800 whites moved to SF last decade vs. 28,500 Asian residents).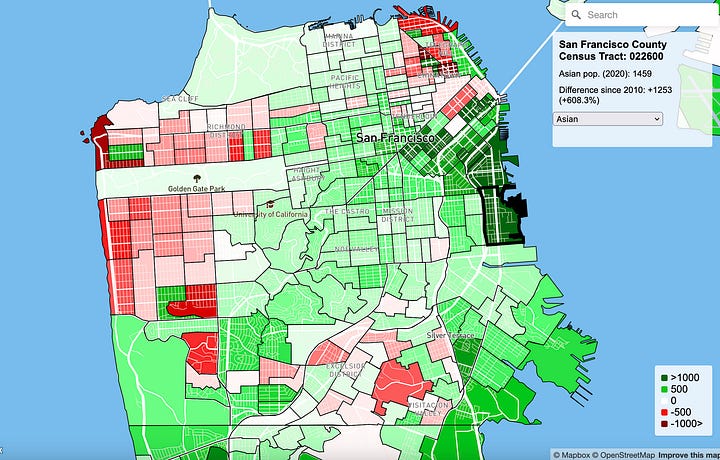 The bottom line is that if we can't articulate to the second largest demographic in the city why criminal justice reform matters then it's not going to happen. We don't have much racial solidarity in the United States — as I was reminded when publishing my Black & Asian conflict article only to be deluged with a large volume of quasi-hate mail by conservative-leaning Asian readers and a few Black folks who thought I was too sympathetic to Asians. This lack of solidarity is going to be a huge impediment for criminal justice going forward, which by the way, affects Asian Americans too through immigration laws.
Considering the tech industry is largely Asian, encompasses many H1-B visa workers and is rife with issues such as caste system discrimination, if criminal justice reformers want to make in-roads with Asians and peel them away from typically white, conservative alliances then I'd start talking about labor rights enforcement in tech alongside incarceration injustice affecting Black people. I refuse to believe that all that can be done is to cite anti-Blackness within these communities and call it a lost cause.
Edit: Original version said "Jack Dorsey" it should've said Matt Dorsey and that Joel Engardio made his anti-YIMBY comments in 2020.